A Panel Discussion on How To Learn the Signs
Updating your enterprise systems to ensure your growing business needs and challenges for today and tomorrow.
April 16, 2020
11 am CST
Your business continues to evolve because of changing customer needs, global supply chains, digital manufacturing, technology advancements, mergers and acquisitions, and other important drivers. Is your ERP system keeping up?
Join us for this 20-minute virtual panel discussion as we focus on understanding the signs to update to your Enterprise Software.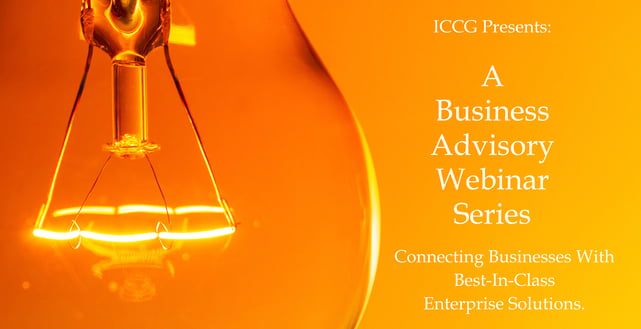 Our panel will discuss
If your present business processes, modifications, or customizations to current systems of record are hindering your business operations efficiencies all around.

Role of Business Process Optimization
Opportunity for Internalizing Leading Industry Business Practices
By sharing information from more than 1,000 + global ERP implementations, this panel discussion, lead by three experts with collective experience of more than 100 man years, will guide you through a well thought out update of your Enterprise Software System. Taking the role of business advisor, our panelists will share how ICCG has helped customers running legacy ERP systems define a blue print for the successful update/upgrade of their enterprise software.
***Registrants will have access to a webinar recording.
Senior Vice President of ICCG.
Bala Anantharama , APICS CPIM certified, has a track record for building and establishing mutually beneficial relationships with C-Level Executives to produce win-win business and technology solutions consulting engagements. He has served 1000+ clients in 27+ countries across Manufacturing, Distribution, Retail, Energy & Utilities, and Healthcare Industry verticals. He has been in the Infor ecosystem for 36+ years and has worked with clients and partners consulting on the complete solution portfolio from Infor for Enterprise software systems. In addition he also has experience and knowledge on Microsoft, Oracle and IBM Business & Technology platforms and solutions.
Dale Williams
Senior Project Director of ICCG
Dale is a Senior Project Director with 33 yrs. of IT experience: 23 yrs. as Sr. Project & Program Manager, and 10 yrs. as Software Engineer & Solution Architect. He has provided Project leadership to successfully deliver over 250 high priority and complex initiatives which includes 11 yrs. implementing ERP systems with Infor M3 & SAP in Cloud single-tenant, multi-tenant, and on-prem environments. He has successfully performed Data Migration & implemented Infor M3 OS (ION, IDM, & Ming.le), Factory Track, CPQ/EQ, CRM, Rhythm, & Birst for customers in many different industries including Food & Beverage, Aerospace, Agriculture, Furniture, Paper, & Fashion industries. Dale also has 11 yrs. successfully implementing & configuring Infor PLM with Data Migration, IDM setup, and ION integration to ERPs. During his 23 years delivering projects for customers, Dale has gained a great deal of business process experience in Manufacturing, Warehousing & Distribution, Procurement, Finance & Accounting.
During his 23 years delivering projects for customers, Dale has gained a great deal of business process experience in Manufacturing, Warehousing & Distribution, Procurement, Finance & Accounting, Customer Relationship Mgt., Customer Order Mgt., Supply Chain Mgt. & Production Scheduling, Inventory Mgt., and Information Technology. Dale also has many years of experience developing and working in PMOs, implementing Clarity & the Project/Portfolio Mgt. processes & procedures for two corporations. Dale is a certified PMP & Scrum Master with a Masters in Project Management from Villanova University. Dale also co-authored the rewrite of the Human Resource Mgt. chapter in the 4th edition of PMI's PMBOK.
Subir Banerjee
Senior Project Director of ICCG
Subir is a performance-driven Senior Project Director with over 25 years' comprehensive experience across IT consulting disciplines. Expertise in Project Management, Consulting, Solution Architect and Lead Management in areas of Application Development, ERP Solutions, Business Intelligence & Analytics, Mobility and Cloud to incorporate innovative management techniques that result in enhanced business practices, increased productivity, and profits. Provided solutions on complex projects using various technologies including BI & Analytics Tool sets, Supply Chain Management, ERP tools, Open system and Legacy platforms.
Subir has strong project management and leadership skills; Experienced in planning, presentation skills, communications to the stake holders, organization skills and conducting steering committee meetings. He effectively manages business process with close attention to budgets, timeframes, quality, and project specifications. He has worked on Infor Deployment Method (IDM), M3 Projects and has good knowledge of ITIL Framework.