Put the Power of Infor CloudSuite M3 ERP Solution in Your Pocket
Leveraging Infor CloudSuite M3 ERP Solution and Infor Factory Track to Increase efficiencies in your warehouse and shop floor

Join ICCG as we present a 30-minute Master Class … where you will have the opportunity to see a demo of Infor Factory Track in action. You'll gain valuable insight from our work with multiple customers and we are ready to share our knowledge with you.

Maybe you are curious on what it takes to implement, administrate functions, or compare Lawson Warehouse Mobility, and Infor Factory Track. Bring your questions because now is the time to implement this Cloud-Based WMS and shop floor tool and we would like to help you get there!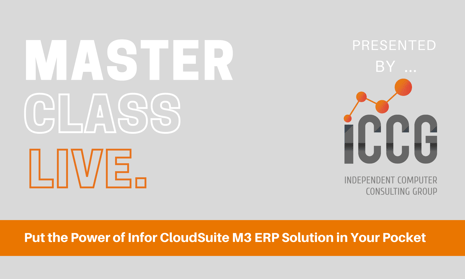 ---
You will learn:

• How to mobilize your warehouse,
• What tools are available to help you be successful,
• What's involved in modernizing your warehouse and shop floor,
• Ways to bring agility and speed to your warehouse operations.

Infor CloudSuite M3 ERP Solution and Infor Factory Track are the perfect solution for the industries we support.
About your presenters:
Senior Vice President - Business Strategy & Enterprise Architect - ICCG
Bala Anantharama has a track record for building and establishing mutually beneficial relationships with C-Level Executives. 38 years results-oriented business leader, strategist for global corporations, enterprise consulting & technology consulting organizations. Experienced in delivering business transformation services, solution architecture, engagement management and consulting engagements and value engineering.
Vice President, Industry Solution Consulting
Sean Conner has experienced CloudSuite on multiple levels over the last 15+ years. He has used the system first hand as an end user, configured multiple instances as an implementation consultant, and lead acquisition implementation teams as the CIO for a $300M Distribution company with 23 distributing branches. Sean has leveraged the CloudSuite platform within multiple organizations to increase efficiencies and provide innovated solutions to their current real-world challenges within the Manufacturing, Chemical, F&B, Distribution, and Fashion industries.
Click Here and fill in the form to view the Master Class.
Learn more about how ICCG can help. Questions about how ICCG can help you? Let us know here.
---