Only a few generations ago, most people harvested vegetables from their backyard and bought meat from the local farm. This provided simple and direct traceability. Trust across one's food supply was inherent. With food supply chains expanding, reduced food costs, and easier access to ingredients and ready-made meals, the time-consuming vegetable garden has become less common with food and beverage producers meeting most people's needs.
Product information and safety regulations play a larger role in food production today. In the last decade we've seen innumerable initiatives to introduce healthier mass-produced food, like sugar-free beverages and ready-to-eat meals made with less salt. Regulators in many countries have enacted laws to enforce these changes. The FDA, EU, and local country legislation are driving more transparency in product labeling, especially when it comes to serving sizes, calories, daily value percentages, added sugars, and more.
In the past, creating product labeling information could be easily achieved. Suppliers provided their specifications, and food processors then calculated nutritional values and listed the allergens that needed to be printed on the product packaging. It was straightforward if you didn't change suppliers.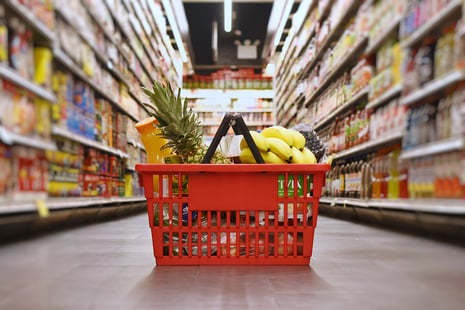 Research by Nielsen has uncovered double-digit sales growth of organic products, with the highest sales growth coming from products that originate from sustainable farming. At the same time, only a small percentage of consumers believe marketing claims like packaging that declares a product is "natural" on the front. Providing the evidence to support organic product claims is necessary to build consumer trust.
A great example can be found in how the world's largest producer of Atlantic salmon shares the details about a fish's provenance and farming with consumers. By scanning a QR code, the consumer can get the full story, from the aquaculture farm to the packaging at hand. For many food products that look alike, it's the only way to differentiate and strengthen the brand.
Not all consumers are willing to or can afford to pay a price premium for food products with a transparent origin. As your ecological footprint becomes more important, however, a growing number of consumers, retailers, and regulators will ask for more transparency.
Beyond meeting consumer demand for product origin, traceability can help food and beverage manufacturers act quickly in the unfortunate event of a food safety recall. Between 2015 to 2019, the US witnessed over 120 food recalls per year (2020 data has yet to be released). The most recent food recall to hit North American food and beverage manufacturers this August resulted in nearly 60,000 pounds of frozen chicken products being recalled due to a possible salmonella contamination. Being able to rapidly identify which consumers may have been impacted is paramount for a quick recovery.
Faced with these unfortunate events, food and beverage producers must be able to trace products being recalled back to the specific manufacturing facility and production lots to determine which retail partners and consumer markets have been impacted. With most consumers now relying on food and beverage producers to provide essential needs, having the right technology in place can help reduce waste, while ensuring safety. This will also work to improve brand perception and customer loyalty, both of which are key to company growth as well as sustainability initiatives.
To fully achieve this initiative, food and beverage manufacturers must extend their track and trace capabilities beyond the four walls of their factory, extending control both upstream to farmers and downstream to consumers. Connecting the dots in the supply chain, from farm to fork, requires a digital platform for streamlined data exchange, compliance, and supply chain transparency. With this information, food producers can better manage their supply chain and production, for example, by synchronizing the processing in the factory with quantities, qualities, and time of the harvest.
With all dots connected, you not only gain faster track and trace capabilities and provide greater transparency to consumers, but you can also gather the data necessary to improve food safety, drive down waste, and better feed the planet.
And, as always, contact ICCG to help provide you with insight and information.
Schedule a complimentary consultation
to review your questions.