Meet Mr. M3 or, as we call him, Sean Conner, ICCG Vice President of Industry Solution Consulting. Each week Sean will present a video focused on Infor M3. Subscribe to our channel to make sure you don't miss them.
Sean Conner has experienced CloudSuite on multiple levels over the last 15+ years. He has used the system first-hand as an end user, configured multiple instances as an implementation consultant, and led acquisition implementation teams as the CIO for a $300M distribution company with 23 distributing branches.
Sean has leveraged the Infor CloudSuite platform within multiple organizations to increase efficiencies and provide innovated solutions to their current real-world challenges within the Manufacturing, Chemical, F&B, Distribution, and Fashion industries.
Click Here to join Sean for this 10-minute overview about Infor M3 in the cloud.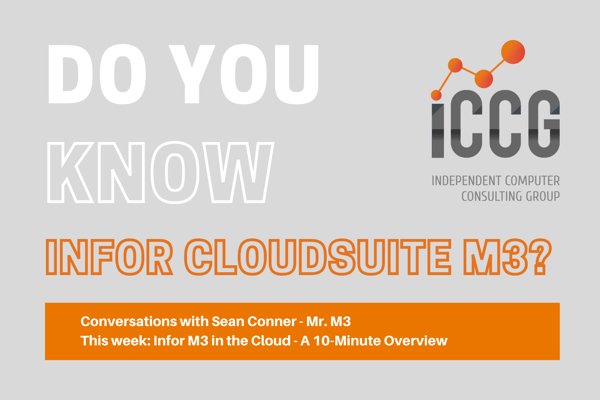 ---
Transform your business with Infor's most powerful ERP cloud software
Infor® M3 is a cloud-based, manufacturing and distribution ERP system that leverages the latest technologies to provide an exceptional user experience and powerful analytics in a multicompany, multicountry, and multisite platform. Infor M3® and related CloudSuite™ industry solutions include industry-leading functionality for the chemical, distribution, equipment, fashion, food and beverage, and industrial manufacturing industries.
In operations, technology, and scale Infor M3 is a multi-site, multi-country, and multi-company solution and empowers your organization to adapt to changing business needs. It provides flexibility in managing mixed-mode and complex environments, with the agility to make quick adjustments at any time. Written in Java, M3 also gives you platform independence and choice.
Infor M3 at a glance:
Comprehensive, centralized ERP
Industry-specific suites
Built for medium to large national and international manufacturers and distributors
Multi-site, multi-company, multi-country, multi-currency, and multi-language
Java-based for hardware and database independence
Supports 19 languages
International support for 41 countries
Built-in flexibility enables configuration to your unique business processes
Learn more about Infor M3 as well as how ICCG can help. Questions about how ICCG can help you? Let us know here.
---