Learn Three Best-Practices to Driving ERP Success.
Pemeco Consulting, a leading Business Process and Organizational Change Management consulting firm joins Independent Computer Consulting Group (ICCG) for this important webinar.
REGISTER NOW
ERP will be among the biggest projects your company will undertake in the next 15 years. To maximize the benefits, you will probably have to change your organizational structure, business processes, and information architecture.
To successfully execute your project, your best-and-brightest will have to lead the charge. They'll need to spend between 50% and 75% of their working time remapping processes, rearchitecting data structures, documenting the new procedures, testing the systems, and training the end-users.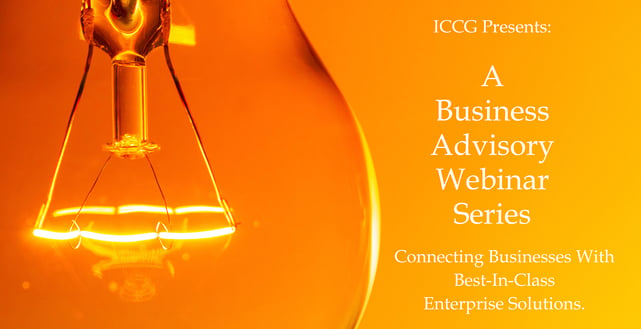 Your business needs a plan to ensure that it can continue to sell, make, and ship product without its key people. It needs a plan to assure that the key users develop the necessary skills and dedication.
Without an effective change management plan, you expose your project to major failure risks and the potential waste of hundreds of thousands - if not millions - of dollars.
Join us for a 45-minute webinar to learn actionable techniques to prepare your business for a major ERP implementation. Bala Anantharama, Sr. Vice President , ICCG, Inc. and Jonathan Gross, Managing Director of Pemeco Consulting, will walk through critical best-practices, including:
1) Evaluating organizational readiness;
2) Building a change management and implementation readiness plan;
3) Building your project teams and back-filling key users.
ABOUT YOUR PRESENTERS:
Jonathan Gross, LL.B., M.B.A.
Managing Director, Pemeco Consulting
Jonathan is a Managing Director at Pemeco Consulting, a vendor-neutral firm that specializes in delivering complex solutions architecture and ERP implementation projects for manufacturing and distribution clients. His clients include mid-sized and enterprise-sized companies in North America and Europe.
Jonathan has developed Pemeco's methodologies for requirements assessment and implementation readiness planning. At one point, these became the subject-matter of an upper-level M.B.A. Systems Analysis and Design course at the Schulich School of Business at York University.
Jonathan has been cited as a thought leader by Cap-Gemini, Ernst & Yonge, Credit-Suisse, IBM, Microsoft, and others, and has presented as a keynote speaker at major conventions and trade shows. Jonathan authored a case study on ERP implementation that appeared in Accounting Information Systems, a textbook published by Pearson Education.
Bala Anantharama
Business Leader and Coach - ICCG, Inc.
A results-oriented business coach, with deep understanding for business process re- engineering and enterprise transformation. Combined with sharp business acumen, he provides insightful ideas focused on growth, powered by a shared vision and operational excellence. Bala has a track record for building and establishing mutually beneficial relationships with C-Level Executives producing win-win engagements and have served 500+ clients in 20+ countries and multiple verticals: Manufacturing, Distribution, Retail, Energy and Utilities, and Healthcare. An avid student of business and leadership, Bala enjoys opportunities to coach and mentor for continuous improvement and to help businesses achieve strategic goals. He has been in the Infor ecosystem serving several of the IBM I series ERP customers for last 36 years.