Presenting the most important steps to help you build and execute a plan for upgrade that will achieve your vision of success efficiently and cost-effectively.
The decision to upgrade an ERP solution is not one that should be made lightly, and the business case for doing so doesn't rest solely on the availability of useful new functionality.

There are other important considerations. Such as, can the upgrade be completed fast, efficiently, and without disrupting ongoing business operations? And can you make the case for the upgrade in terms of value to the business, so you get the commitment and budget you need to move forward? These are critical questions.

This webinar provides you with the expertise, proven experience, and defined processes to help you answer, "Yes," to both.

Read more...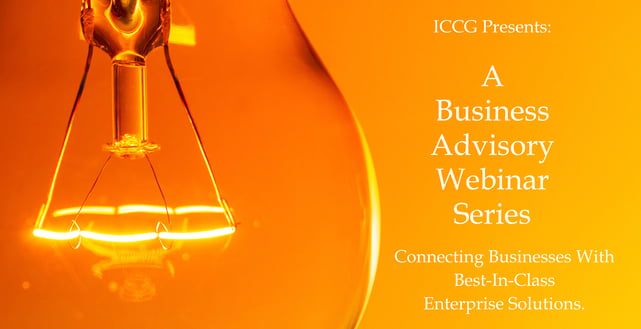 ---
We will share information from more than 500 global ERP implementations, and guide you through a well thought-out upgrade of your ERP system. Taking the role of business advisor, our presenters will share how ICCG has helped customers running legacy ERP systems define a blue print for the successful upgrade of their enterprise software.and get answers to these and other important questions.
Join ICCG's Vivek Inamdar and Bob Essl for this very insightful presentation.
ABOUT YOUR PRESENTERS:
Consulting Services Manager - ICCG, Inc.


Vivek brings more than 14 years of Project Management experience in Information Technology and a combined functional experience in financial accounting and controlling domain of 20 years. He has s
trong project management and leadership skills and is experienced in planning, presentation skills, communications to the stake holders, organization skills and conducting steering committee meetings.
He has successfully managed implementations of ERP systems like Infor M3 and SAP R3 at various client locations in US, Australia and India.
Experienced in the roles of project management, business consulting and pre-sales for multiple software systems including ERPs like M3 and SAP R3 and Add on solutions - PLM, CRM, SCM, WMS, BI.
Enterprise Solutions Consultant - ICCG, Inc.
Bob is a seasoned enterprise sales professional focused on providing information technology, engineering, and manufacturing customers with solutions to improve their business processes.
He directs his attention on developing sustainable implementations and initiatives and has a proven track record of success in driving revenue growth and expanding market share within competitive landscapes.
His clients count on him for guidance and buying decisions that will allow them to achieve their goals with real, measurable bottom-line impact.
He is results-driven and excels in providing strategic insight, trend awareness, and lasting relationships with C-level decision makers.